Are you a business owner looking for a way to enhance your WooCommerce store with a product table display? Or do you work as a WordPress website developer / designer and need more tools? Are you searching for a Product table to design yourself in Elementor? Look no further, let us introduce the Essential E-Commerce Product Table Widget for Elementor.
Consortia AS has developed an add-on called Essential E-Commerce for Elementor, which comes with an several widgets for WooCommerce, in this article we will look at the benefits of the Product Table Widget. Our company specializes in creating powerful tools for the Elementor community, which is the most popular page builder for WordPress. The Product Table Widget is designed to help businesses and website developers showcase their products in an organized and professional manner.
Here's why you should consider using Essential E-Commerce's Product Table for your WooCommerce website:
1. Easy to Use and Customize:
The Product Table widget is incredibly easy to use and customize, making it a great tool for business owners and website developers alike. Once you install the Essential E-Commerce plugin, you can quickly use the widget and create a product table. You can choose which products to display, the number of products per page, and the columns to include in the table. Also, you can customize your table to fit your store, include discount calculations, choose up to 16 product values, and so much more. You can even customize the colors and fonts to match your brand.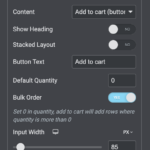 2. Use as a Bulk Order Form
Many like to use a product table as a order form. This widget has several special functions for that including bulk add, this adds a add to cart button in the table footer and let you easy add multiple products at once. Fits perfect in B2B solutions to.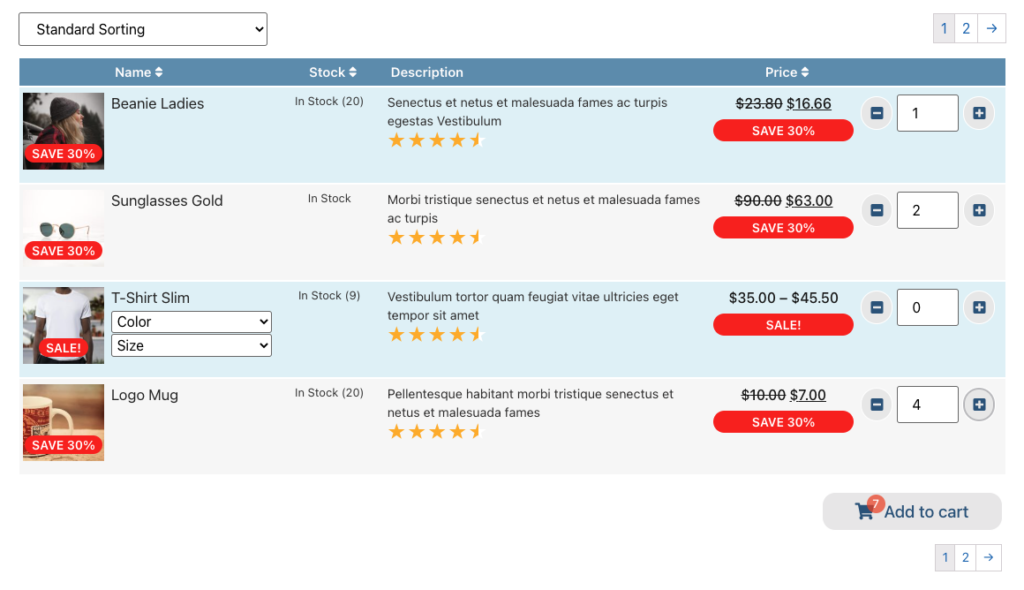 3. Easy Query the Products You Need
A wide range of options to get the product selection you want is present due to the advanced query options. Query by categories, single products, tags, related products, upsells and current query (used on e.g. shop and archive pages).
4. Faster and More Efficient Navigation
The traditional WooCommerce product display can be clunky and slow, especially for customers who want to browse their favorite products quickly. The Product Table provides a faster and more efficient way for customers to navigate your products. They can sort by price, name, or any other attribute you choose.
5. Increases Sales and Conversions
The Product Table widget can help increase sales and conversions on your website. Customers can see all of your products at once, making it easier for them to compare and make purchasing decisions. The faster navigation also means that they are more likely to stay on your website longer due to the great experience and ultimately make a purchase.
6. Mobile-Friendly
More and more customers are shopping on their mobile devices, which is why it's essential to have a mobile-friendly website. The Product Table widget is fully responsive, meaning it have Elementor options to set e.g. width, fonts, table columns and more as you like for mobile phones and tablets.
7. For Business Owners:
If you're a business owner looking to design your own WooCommerce product table using Elementor, this widget a must-have tool. It's easy to use, customizable, and will help increase sales and conversions on your website. With the ability to showcase all of your products in an organized and professional manner, customers will have a better shopping experience, leading to increased loyalty and revenue.
8. For Website Developers and Designers:
As a Elementor website developer or designer, you want to provide your clients with the best tools to showcase their products. The Product Table widget will help you create a visually appealing product display that is easy to navigate, increasing customer satisfaction and ultimately leading to returning customers for your clients.
Read more about the Product Table here!
In conclusion, if you're looking for a way to improve your WooCommerce store with Elementor, the Product Table is one of many powerful widgets in the Essential E-Commerce add-on. We belive the plugin will help you increase sales and conversions on your website. So why wait? Try it out today and see the difference it can make for your online store.